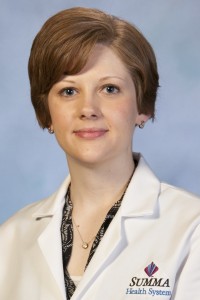 Jessica L. Coleman, DO
Geriatrics Fellow
Summa Health System
Akron, Ohio
We all know that volunteering for local organizations is a great use of free time. But did you also know that it can not only improve your mood, but also help prolong your life and prevent memory loss?
Volunteering has been shown to be one of the most effective ways for older adults to stay active, learn new skills, make new friends, and be healthier.
Getting involved in your community can be as easy as heading to your local library to read to children after school, volunteering at your local hospital,or joining a service league in your area to meet others who also enjoy giving back.
Consider some of the following ways to connect with and contribute to your community:
 Foster Grandparent Programs: Connect with local children who need the love and support of an older adult to guide or comfort them. Work with troubled teens, young mothers, or premature infants—everyone can benefit from having an involved and caring grandparent.
Retired and Senior Volunteer Programs: Using the skills and talents you have gained over a lifelong career, serve as a volunteer in your community rebuilding homes, tutoring, or organizing neighborhood watch programs.
Senior Companions: Help keep a fellow senior independent and in their own home by assisting with daily tasks such as shopping or paying bills. You can provide respite for caregivers, family members, and make valuable friendships.
Volunteer Vacation

s: You've always wanted to see the world, so why not see it and give something back at the same time? You can search on the internet for "volunteer vacations"  to find structured travel experiences based around service. These experiences may include  tutoring children at Navajo Reservation schools or preserving coral reefs. Choose your own adventure!
Food Banks: Organize food drives, clean out your pantry, and encourage your friends to do the same. You can also help out by going to the food bank to sort and package items. Many food banks also request donations for holiday meals, including table settings and utensils.
Homeless Shelters: Every community is affected by the poverty that leads to homelessness, and you can help by donating time, clothing, linens, books, or food. Do you have a favorite recipe to share? You could also help out in the kitchen cooking or preparing meals.
Tour Guide or Docent: Learn more about an interesting topic, art, literature, or time period by volunteering as a tour guide or docent for a museum, landmark, or university. Many people find this to be a fulfilling way to share their interests with the community.
Political Campaigns: Supporting local politicians, grassroots organizations, or political action committees can be a rewarding way to donate your time. You could canvas door-to-door, send out mailers, or call voters.
Walk for a cause: Most associations and foundations have some kind of walk or community activity to raise money for their cause. Pick your favorite cause and get moving or work at a station or on an organizing committee.
Work with animals: Call your local animal shelter for their current needs, whether it is donating items or help in the office, or walking, bathing, feeding, or cuddling the animals.
Check your local school system and library websites for more opportunities. Also, these websites may also have more ideas and information:
www.nationalservice.gov
www.volunteermatch.org
www.aarp.org
Happy helping!