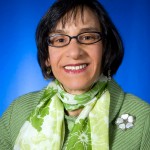 Barbara Resnick, PhD, CRNP
Professor
Sonya Ziporkin Gershowitz Chair in Gerontology
University of Maryland School of Nursing
As someone who is generally the caregiver—professionally and as a woman, mom, wife and daughter—I have had the opportunity to learn recently what is most helpful when being on the receiving end of caregiving. My thoughts combine my professional work as well as the personal experiences I have had with the health care system and with some challenging health care issues.
There is a difference between short-term caregiving events (such as helping someone after a joint replacement, fracture, or cancer treatment), compared to long-term caregiving events (such as caring for someone who has had a major stroke or who has dementia or Parkinson's disease).  The approaches recommended here can be used for both short- and long-term caregiving.
My most recent thoughts come from going through an extremely aggressive course of radiation and chemotherapy.  In this treatment, the health care team is focused on destroying cancer cells and not necessarily on helping the individual undergoing treatment cope.  Therefore, a caregiver, or what I like to think of as a "care coach" or "care champion," is essential.  That role generally falls on family, friends, or co-workers.
Based on my experience, here are some ways to be a terrific care coach.
Build Confidence
Health care professionals are generally focused on providing patients with information to help them make informed health care decisions. They want, and need, to make sure that patients understand the disease process, the treatment options, and the treatment's impact. Information is certainly necessary and helpful, but what I believe is even more helpful is building the patient's self-efficacy expectations and outcome expectations.
Self-efficacy expectations are a person's beliefs about their ability to accomplish a given task.  Outcome expectations are their beliefs that a given or expected outcome will occur by performing a certain task.
For example, as a care coach, you could help build a friend's belief that they can get through their cancer treatment (self-efficacy expectation) and you can encourage and support their belief that there will be a benefit to undergoing the treatment (outcome expectation).
There are some known techniques for strengthening self-efficacy and outcome expectations developed by a researcher named Albert Bandura. The best way to build confidence in our ability to do a specific task is to actually perform the task, or at least one small step of the task.  For example, to help someone who has had chemotherapy get the fluids they need, you could start by helping them take a few sips or water or soup even when if it is hard for them because of nausea or lack of appetite.  Or you could help someone who has had a stroke take a few steps with the ultimate goal of getting to the bathroom.
Another way to strengthen confidence is by providing constant and repetitive encouragement. Tell them they can eat some soup or take that short walk to the bathroom, and continue to reinforce the idea.  Encouragement should be realistic and repetitive.
Along with encouragement is self-modeling. Self-modeling involves reminding the individual that while it seems really impossible to eat any soup or take any steps today, they did it yesterday and they can do it again today.
Lastly, do everything you can to help get rid of the unpleasant sensations the individual experiences while carrying out the behavior that is needed for their treatment or optimal recovery.  For someone enduring chemotherapy, it might be volunteering to sit and talk with them during treatment to help get their mind off the process, or taking them out for a milkshake when that is the only food they can tolerate. For someone who has had a stroke, it might be helping them manage a fear of falling by supporting them while they get up from a wheelchair.
Watch soon for another post with more suggestions on how to be the best care coach you can be!