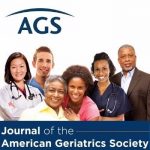 Journal of the American Geriatrics Society Research Summary
Cognitive decline is the medical term for a decline in your abilities to think, remember, and make decisions. Researchers know now that cognitive decline may begin in midlife and can develop over a period of 20 years or so. In a new study, published in the Journal of the American Geriatrics Society (JAGS), researchers identified factors associated with brain health in middle age in order to identify ways to preserve brain function when people are older.
Several studies have shown links between changes in the senses and the development of cognitive decline. In earlier studies, the research team responsible for the new JAGS report found that problems with hearing, vision, or the sense of smell were associated with poorer cognitive function in middle-aged adults. These changes also have been linked to developing cognitive impairments for older people.
To learn more in this new work, the researchers used information from the ongoing Beaver Dam Offspring Study (BOSS; conducted from 2005 to the present), a study of the adult children of participants in the Epidemiology of Hearing Loss Study, a population-based study of aging. Continue reading →