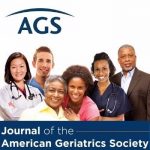 Journal of the American Geriatrics Society Research Summary
Have you thought about what you'd like your life to look like when you're 84?
 When a leading health system leader put that question to Lewis A. Lipsitz, MD, Director, Hinda and Arthur Marcus Institute for Aging Research at Hebrew SeniorLife and Professor of Medicine at Harvard Medical School, Dr. Lipsitz published an essay in the Journal of the American Geriatrics Society that outlined his thoughts. What follows is a summary of his essay, titled "When I'm 84: What Should Life Look Like in Old Age." 
Knowing that I am a geriatrician, an esteemed health system leader once asked me: "What would you like your life to look like in old age?" I immediately listed the top contributors to a healthy longevity: Regular exercise, a well-balanced diet, a sense of purpose, social and family connections, intellectual stimulation and preventive health care.
However, many of us have trouble meeting these goals for various reasons. While we all hope to live long, productive lives, the field of geriatrics is more focused on achieving a long "health span," in which we're free of disease and disability, cognitively intact, and socially engaged. Since social factors account for most poor health outcomes, we need to help older adults address healthy longevity in our environment, our homes, communities, and lifestyles.
Here's what I envision: Continue reading →