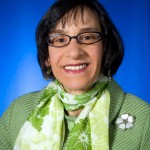 Barbara Resnick, PhD, CRNP
Professor
Sonya Ziporkin Gershowitz Chair in Gerontology
University of Maryland School of Nursing
Introduction
This is the latest in a series of blog posts by Barbara Resnick, PhD, CRNP, written from her perspective as both a healthcare professional and as a patient during the course of intensive treatment for esophageal cancer.  This two-part article was written about two months following her surgery. Part One discusses the importance of preparing for going home throughout the course of a hospital stay following surgery.  Part Two addresses managing ongoing recovery at home.  These blog posts will be helpful to older adults undergoing surgery and their families, as well as to hospital administrators and healthcare providers.
Part Two: Healing, Getting Stronger, Eating and Sleeping Better – Trial and Error and a Pinch of Patience
Because everyone's recovery from surgery is different, your healthcare team can only give you basic information and guidance based on what they see and hear from other patients. Knowing what to expect in terms of wound healing, fatigue following surgery, physical activity, and eating and sleeping—all things which are essential to the healing process—is where trial and error and waiting may come into play.
Wound healing takes time. You can aid the health process by getting enough protein and calories, treating any anemia you might have, and keeping the wound and the surrounding area clean. These are all things that you can do with the help of a caregiver. Protein intake should ideally include 30 grams of protein with each meal for an average size adult male and less for a smaller female (30 grams includes a piece of meat, chicken, or fish the size of your fist, or several eggs). If you continue to feel unusually tired at home, tell your healthcare provider. They may do a blood test to check for anemia (an insufficient number of red blood cells, sometimes called "iron-poor blood"). If you have some anemia, your provider may have you take an iron supplement. Eating iron-rich foods is always a good idea when healing. Try dark leafy greens, dried fruit, beans, enriched breads and cereals, meat, eggs, and some fish. Keeping your wound clean with soap and water and showering as soon as you are able to will also help with healing. Then sit back and let the healing take place! Continue reading →