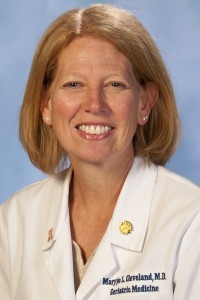 Maryjo L. Cleveland, MD
Medical Director, Post Acute & Senior Services
Chief, Division of Geriatric Medicine
Summa Health System
Akron, Ohio 
It is the middle of winter here in Cleveland and we have experienced an unusual amount of snow, sleet and ice. In fact, if you live anywhere with winter, I'll bet this weather has been challenging. One problem that we see more of in the winter is falls. I ask all of my patients if they have experienced a fall.  Can you  guess the most common answer I get? It isn't "no"— it's "not yet."  Isn't that interesting? That answer means that they expect to fall sometime. In other words, they think it's normal. But we are here to find out otherwise!
Falls are certainly common. Most people can tell you about friends or family members who have fallen and suffered a serious injury from a fall, such as a broken hip. Most people also tell me that falling is one of the things they fear the most. The good news is that while falls are common, they are not inevitable. There are well defined risk factors that make it more likely for someone to fall.   And there are also recommendations on how to prevent falls. These recommendations will require you and your healthcare professional to work closely together.