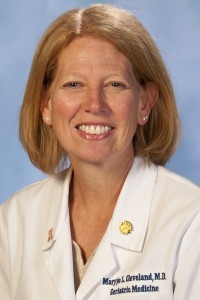 Maryjo L. Cleveland, MD
Medical Director, Post Acute & Senior Services
Chief, Division of Geriatric Medicine
Summa Health System
Akron, Ohio
Your older relative has just been diagnosed with dementia. Your head is spinning with questions, concerns, fears, and yes, disbelief.  Still, you want to know all you can. If you are going to be a caregiver, you want to be a good one. So, where to start?
Start with the things that, if not managed well, have the greatest chance of getting your relative into trouble! Start with "The Four M's."
Meals
From planning to shopping to preparing, meal preparation is a very complicated task—for someone with a memory problem. You may notice that the older person is losing weight, that they eat little at home but eat well when they go out to eat, or that there is spoiled food in the refrigerator.
Try: Have simple foods – especially your relative's favorite ones – around the house, such as sandwiches, soup, and cereal. Bring in ready meals that just need to be microwaved. Consider arranging for home delivered meals. Try to make meal time a social time when possible. Ask friends, church and family members to stop in and stay during meals.
Medicine
Medication management can also be overwhelming and older adults are often taking 10 or more medications, including over-the-counter ones.
Try: Discuss simplifying the regimen with the primary healthcare provider. Are all medications still necessary, and how many can be given just daily? Set up the medicine in a "days of the week" pill box and monitor if they are being taken. Call daily to remind. Consider hiring help for in-person reminders. Take over the refill tasks. Continue reading →