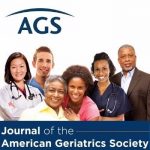 Journal of the American Geriatrics Society Research Summary
As we age, we may become weaker as our muscles tend to lose their mass and strength. This condition of losing muscle mass is called sarcopenia. Sarcopenia can lead to problems performing your daily activities, such as shopping, socializing, and taking care of yourself and your home. Having sarcopenia can lessen your quality of life—and your independence.
A simple, fast way to test your overall muscle strength is by measuring the strength of your handgrip. In the test, you grip a small device as hard as you can, and it measures the strength of your grip. Studies have shown that handgrip strength is closely linked to muscle mass and other signs of your general health, including nutrition and walking ability. What's more, handgrip strength is considered an important test for diagnosing sarcopenia. Weak handgrip strength can predict low muscle mass and poor physical performance.
Research has linked handgrip strength to other health problems in older adults. Losing muscle strength as you age also means losing muscle strength in your respiratory system. (The respiratory system is the part of your body responsible for breathing.) This can lead to poor lung function. When your lungs don't function properly, you are at higher risk for respiratory issues like bronchitis and pneumonia, as well as heart disease and even death. Continue reading →