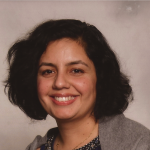 Quratulain Syed, MD
Assistant Professor of Medicine,
Division of General Medicine and Geriatrics,
Emory University School of Medicine
It's a Saturday morning and Ms. Edwards is sitting on her recliner enjoying her cup of coffee when the phone rings. She picks up the phone and hears a distant but upset voice calling out, "Grandma!"
"Oh, is it Karen?" Ms. Edwards asks. "Yes, Grandma. I have been kidnapped in South Africa. They'll kill me unless you send $10,000 within 24 hours. And please, do not tell Mom or Dad, or anyone else, or I'll be dead," the voice pleads.
The voice on the other line gives an account number where the money needs to be wired, and the line is disconnected before Ms. Edwards can ask any questions. Extremely concerned about the safety of her beloved granddaughter, Ms. Edwards drives to the bank immediately and authorizes a wire transfer for $10,000.
Three days later, Karen calls to check in on her grandmother and is shocked to hear about the phone call. Karen tells her that she has been busy studying for school the past few weeks and has never been to South Africa.
Ms. Edwards is not alone. One in five older adults in the United States has been a victim of financial scams and exploitation.
Below are some tips to help you stay informed and avoid getting involved in a scam:
When receiving a phone call, let the person on the other side of the line introduce him/herself, even when it sounds like it could be a loved one.
Statements like "you need to do this now" or "don't tell this to anyone" are usually red flags indicating a scam.
The story of a grandchild or loved one being kidnapped in a foreign country and needing money for ransom is usually a scam. If you are concerned about safety of your loved one, you should call your local Federal Bureau of Investigation (FBI) office to investigate the accuracy of the call.
When receiving telemarketing calls regarding charitable causes or products to purchase, ask for written material about the services to be sent to you. Carefully review and verify the information before you send any money.
If you receive brochures about investment opportunities, ask a trusted person to review them and advise you.
Do not send money or give out personal information (such as credit card numbers and expiration dates, bank account numbers, dates of birth, or social security numbers) to unfamiliar companies or unknown persons.
Don't pay for services until they are delivered.
Do not sign blank insurance claims forms.
Beware of door-to-door or telephone salespeople who claim to sell "free" medical equipment or cheaper health insurance plans.
Only give your insurance/Medicare identification to those who have provided you with medical services.
Before conducting business with an unfamiliar company, check its authenticity by contacting your local consumer protection agency, Better Business Bureau, state attorney general, or the National Fraud Information Center.
Carefully read any offers of reverse mortgages, and don't sign any documents that you don't completely understand.
If you have been a victim of fraud, stay away from people who call and offer to help you recover your losses for a fee paid in advance.
If you have been a victim of fraud or a scam, report it immediately to your local Federal Bureau of Investigation (FBI) field office or state Attorney General's office. (You can find state-specific resources here or by calling the Eldercare Locator at 1-800-677-1116.)
If you have been a victim of a financial scam, please don't be embarrassed. Feel free to share your story in the comments section below. Your story could help others and will create awareness among other readers, and help prevent them from being targets of such scams in the future.