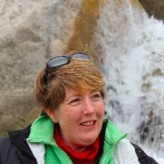 Nancy E. Lundebjerg, MPA
Chief Executive Officer
American Geriatrics Society
Health in Aging Foundation
Have you ever imagined a time when you are unable to make decisions for yourself? Who knows how you would make decisions? What information would you want? What do you think about life-prolonging treatments? Who knows how you feel about dying? Who knows you?
Have you looked at that moment through the eyes of family who may have no—or every—legal authority to make decisions for you? Have you thought about the range of decisions that might need to be made for you—each decision likely leading to another decision and accompanied by concern that someone might not be doing what you would do if you were making this decision for yourself?
We don't like thinking about those types of things—at least my family doesn't, and I wouldn't be surprised if yours didn't as well. You might, like me, have an advance directive gathering dust in some corner of your home with another copy in the hands of your proxy and yet another copy stapled into a chart for a doctor you haven't seen in more than fifteen years because you've moved on and so have they. You may have completed an advance directive as a part of writing your will, as someone recently told me they had, so you can mentally check it off your to-do list. Health Care Proxy/Advance Care Directive. Done.
But maybe we should start thinking about this as a conversation as one addressing how we would want to live rather than one focused on how we would want to die. I know how I want to die–without a long decline into disability and dementia. I also know that kind of death can be hard to come by. Simply put, in this day and age, we can live for much longer than we could before.
If you look at Advance Care Directive forms, you'll see that most ask for some specificity. As an example, my home state of New York allows me to check off that I don't want blood transfusions—just one of the 11 examples that the New York form provides. It's enough to make my head spin.
To be honest, I am not sure I could outline every possible scenario in a way that would be a road map for my proxy. The thing I know from being a caregiver is that there will be a lot of decisions and a lot of nuances to those decisions. I know they will start small and build to a crescendo. And, at least for me, it's been helpful to balance sharing my wishes with remaining flexible—not trying to control everything with a lot of instructions. That's one of the most helpful parts of selecting a healthy proxy when completing an advance directive—you can identify a person you trust to do whatever is in your best interests.
It's important to have an Advance Care Directive form completed and a decision-maker identified. No less important is empowering your decision-maker to act on your behalf. More on that in my next post.