Have you ever wondered about all those codes you see on a bill or chart at your healthcare provider's office?  If you're covered by Medicare—the nation's largest insurer dedicated exclusively to helping older people with their health expenses—chances are they're part of a payment system known as the physician fee schedule.  Medicare pays eligible providers for their services based on the codes they use to bill for the patient visit.
Each year, experts from the Centers for Medicare & Medicaid Services (CMS) review, refine, and tweak the types of services included in the physician fee schedule to make it more responsive to patient needs and professional advice. The proposed schedule for 2016 was just released this week, and it's got some important new updates that will benefit older Americans.  In particular, CMS is now proposing covering advance care planning (ACP), which would offer patients an important outlet for talking with healthcare providers about their long-term needs and expectations.  Many people have questions about what ACP is and how it works, and the infographic below from the American Geriatrics Society is a helpful guide to the basics when it comes to this important new service.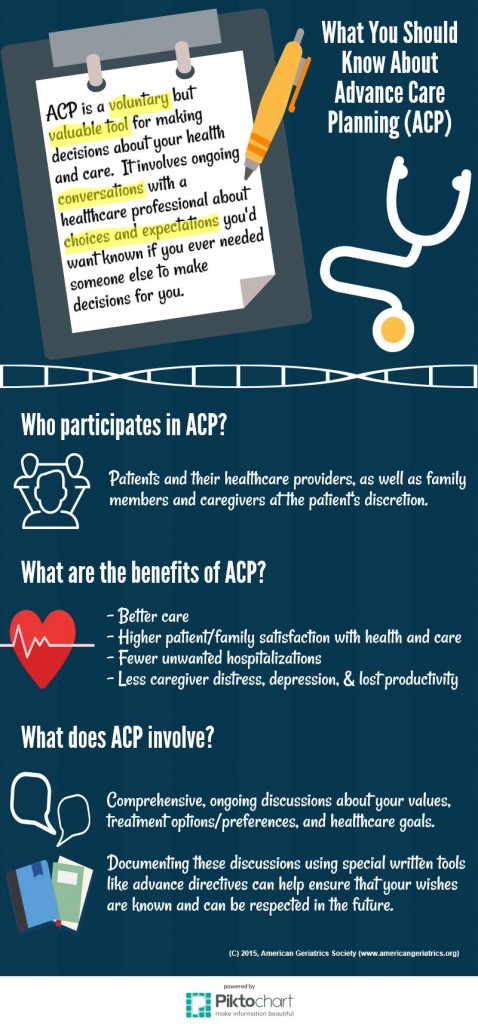 Interested in learning more or taking action?  Consider sharing this post or some of the ACP-related resources posted by the Health in Aging Foundation to Twitter (@HealthinAging) and Facebook (Facebook.com/HealthinAging).  You can also submit a comment of support to CMS to let them know you value ACP as part of your care.