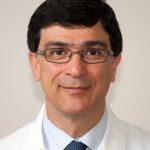 Hamid R. Okhravi, MD
Associate Professor of Medicine/Geriatrics
Director, Driving Evaluation Clinic
Director, Memory Consultation Clinic
Glennan Center for Geriatrics and Gerontology
Eastern Virginia Medical School

As geriatricians, we often need to have difficult conversations with our patients, their families, and/or their caregivers. One of the most difficult of these is when we have to tell a patient that he or she is no longer capable of driving safely.
Not so long ago, I had this discussion with a patient of mine, Mr. M, a 79-year old with mild dementia. His daughter brought him to our Memory Clinic when she became worried about his driving skills.
According to Mr. M, he's a good driver. But his daughter told me that Mr. M had caused two minor accidents within the last year. She also said that he occasionally got lost when driving outside his familiar routes.
I gave him tests to gauge his ability to think and make decisions, and he did poorly on all three of them.
When I discussed his test results with Mr. M and his daughter, I explained that his impaired performance didn't necessarily prove that he's an unsafe driver. However, his scores did show that his driving skills needed further evaluation. I suggested that medical disorders, such as cognitive impairment, could worsen his skills and increase the risk of driving errors that can lead to vehicle crashes.
Naturally, Mr. M was unhappy to hear what I had to say. He told me that he's always been a safe driver, and he refused to stop driving. He told me that not being able to drive would change his life for the worse, and that it would be terrible not to be able to shop for groceries or attend the two weekly social activities he enjoys with his friends.
Despite his concerns, with his daughter's encouragement, he agreed to have his driving evaluated.
We reviewed the available options in our area, including a driving evaluation that used a driving simulator, or seeing a driver rehabilitation specialist who would conduct a fitness-to-drive evaluation. When Mr. M learned that he could drive his own car during the evaluation, he agreed to see the specialist.
After his evaluation, the specialist concluded that Mr. M should stop driving. He didn't have the skills necessary to compensate for his cognitive deficits. What's more, because of his condition, rehabilitation would be unlikely to improve his skills, the driving rehabilitation specialist said.
After I shared his results with Mr. M and his daughter, we discussed the potential risks of his continuing to drive, as well as issues related to injury, public safety, and financial liability. I emphasized that the recommendation was based on his personal safety, as well as the safety of others on the road.
Mr. M was extremely upset with the notion that he quit driving. We acknowledged his feelings and concerns, but we remained firm that he needed to stop. His daughter, who supported the results of the evaluation, was finally able to convince him to "hand over the keys."
I gave Mr. M and his daughter information about local resources, including public and senior transportation services. She and her daughter agreed to drive him to shopping and his other errands.
I advised them to set up a delivery system for prescriptions and groceries. I suggested that they engage a team of family members and friends who would agree to participate in a weekly transportation schedule for Mr. M.
After six weeks, on his follow up visit, he and his daughter reported that Mr. M had quit driving and had given his car to his granddaughter. Happily, his support network has been successful in making sure that Mr. M has the mobility he needs to engage in the social and other activities he enjoys.