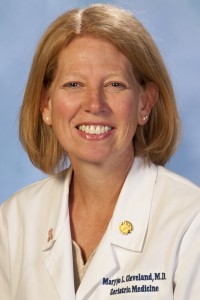 Maryjo L. Cleveland, MD
Medical Director, Post Acute & Senior Services
Chief, Division of Geriatric Medicine
Summa Health System
Akron, Ohio
May is Older Americans Month and this month the Health in Aging Foundation is focusing on injury prevention with the theme "Safe Today. Healthy Tomorrow". For this reason, we are going to take a slight detour from our "It's Not Normal" series and go into more detail on how seniors can keep free from injury. In a sense, it is a continuation of last month's entry on preventing falls.
So, what do you think of when you hear the phrase "Safe Today"? Here are the 5 things that came to my mind first.
1.  Wear seatbelts! Most seniors will continue to drive into their 80's and want to be safe drivers. The single most important thing you can do to prevent injury or death in the event of an accident is to wear seatbelts. The National Safety Council estimates that wearing your seatbelt will reduce your chance of injury by 50%! Yes, sometimes they are uncomfortable and wrinkle our clothes. Wear them anyway. And while you're at it, require that everyone else in the car wear theirs too.
2. Don't wear high heels! (Gentlemen, you can skip this paragraph.) I have no data to present here; this is purely an anecdotal observation. I have seen beautifully dressed, well-made-up women totter precariously into my office in 2-3 inch heels complaining of balance problems! They are clearly setting themselves up for trouble. Appropriate footwear is key to comfort and safety. Fortunately, ballet-style shoes are popular and tennis shoes are now made in every color imaginable. So, set a new fashion trend by putting a stable gait ahead of vanity and wear sneakers with your skirts.