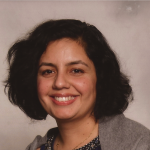 Quratulain Syed, MD
Assistant Professor of Medicine,
Division of General Medicine and Geriatrics,
Emory University School of Medicine
It's a Saturday morning and Ms. Edwards is sitting on her recliner enjoying her cup of coffee when the phone rings. She picks up the phone and hears a distant but upset voice calling out, "Grandma!"
"Oh, is it Karen?" Ms. Edwards asks. "Yes, Grandma. I have been kidnapped in South Africa. They'll kill me unless you send $10,000 within 24 hours. And please, do not tell Mom or Dad, or anyone else, or I'll be dead," the voice pleads.
The voice on the other line gives an account number where the money needs to be wired, and the line is disconnected before Ms. Edwards can ask any questions. Extremely concerned about the safety of her beloved granddaughter, Ms. Edwards drives to the bank immediately and authorizes a wire transfer for $10,000.
Three days later, Karen calls to check in on her grandmother and is shocked to hear about the phone call. Karen tells her that she has been busy studying for school the past few weeks and has never been to South Africa.
Ms. Edwards is not alone. One in five older adults in the United States has been a victim of financial scams and exploitation.
Below are some tips to help you stay informed and avoid getting involved in a scam: Continue reading →