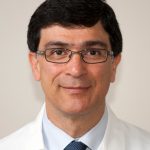 Hamid R. Okhravi, MD
Associate Professor of Medicine/Geriatrics
Director, Driving Evaluation Clinic
Director, Memory Consultation Clinic
Glennan Center for Geriatrics and Gerontology
Eastern Virginia Medical School

As geriatricians, we often need to have difficult conversations with our patients, their families, and/or their caregivers. One of the most difficult of these is when we have to tell a patient that he or she is no longer capable of driving safely.
Not so long ago, I had this discussion with a patient of mine, Mr. M, a 79-year old with mild dementia. His daughter brought him to our Memory Clinic when she became worried about his driving skills.
According to Mr. M, he's a good driver. But his daughter told me that Mr. M had caused two minor accidents within the last year. She also said that he occasionally got lost when driving outside his familiar routes.
I gave him tests to gauge his ability to think and make decisions, and he did poorly on all three of them.
When I discussed his test results with Mr. M and his daughter, I explained that his impaired performance didn't necessarily prove that he's an unsafe driver. However, his scores did show that his driving skills needed further evaluation. I suggested that medical disorders, such as cognitive impairment, could worsen his skills and increase the risk of driving errors that can lead to vehicle crashes.
Naturally, Mr. M was unhappy to hear what I had to say. He told me that he's always been a safe driver, and he refused to stop driving. He told me that not being able to drive would change his life for the worse, and that it would be terrible not to be able to shop for groceries or attend the two weekly social activities he enjoys with his friends.
Despite his concerns, with his daughter's encouragement, he agreed to have his driving evaluated. Continue reading →