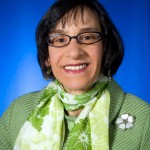 Barbara Resnick, PhD, CRNP
Professor
Sonya Ziporkin Gershowitz Chair in Gerontology
University of Maryland School of Nursing
As I noted in an earlier series of blog posts, I've been dealing with an intense course of cancer treatment. During my treatment, I've come face-to-face with some important but difficult facts—and since I think many of those facts hold true for others dealing with serious chronic illnesses like cancer, I wanted to share them here.
First, I've learned that cancer treatment can be a real rollercoaster. Your emotional resilience—or your ability to bounce back from a challenge—can dip. Along my journey through a long, slow recovery, for example, I've experienced dark moments when my resiliency has all but faded. I know that many people who cope with chronic illnesses experience these difficult, dark moments—which is why it's so important to recognize them when they appear.
I've also learned that losing your resiliency is often as hard on your caregiver(s) as it is on you. It's tough when you're the person undergoing treatment, but it can be equally painful for a caregiver to watch someone struggle with a difficult recovery. These are the moments when you need to say to yourself—or reach out to your loved one and say—"Please fight just a little bit longer." Let's look at some ways to make that possible.
Strengthening Your Resiliency Muscles
Where resiliency is concerned, what can you do to help yourself or the person you are caring for draw on inner strength for the road ahead?
Begin by recognizing the difference between physical and emotional resiliency.
We've already seen that emotional resiliency is your ability to bounce back from a challenge. Physical resiliency, on the other hand, refers to your ability to recover physical strength after you've undergone intensive treatments for cancer, surgery, or other serious medical conditions. Each type of resiliency can be impacted by an illness, and each person may respond to resiliency differently. Physical activity is something that I truly enjoy, for example, so remaining physically resilient was less challenging for me than maintaining my emotional resilience. You need both types of resiliency when you're dealing with tough medical challenges. Let's focus here on strategies for conserving your emotional resiliency (my next blog post will be on regaining physical resiliency). Continue reading →