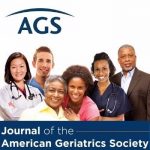 Journal of the American Geriatrics Society Research Summary
También disponible en español – Ver abajo.
One in four people aged 65 or older has diabetes. The disease is the seventh leading cause of death in the United States and a major contributor to heart disease. Experts have recommended that the best way to slow the progression of diabetes—and help prevent its many complications—is to maintain strict control of blood sugar levels. For healthy younger people, this means keeping the target blood sugar level (known as A1c or HbA1c) lower than 6.5 percent to 7.0 percent.
For older adults who have a limited life expectancy or who have advanced dementia, however, maintaining that target blood sugar level may cause more harm than good. For example, these older adults may not live long enough to experience potential benefits. What's more, maintaining these strict blood sugar levels can raise the risk of potentially harmful events such as low blood sugar (also known as hypoglycemia). This can cause falls or loss of consciousness.
For these reasons, many guidelines now suggest targeting higher HbA1c targets—such as between 8.0 percent and 9.0 percent—for older adults who have multiple chronic conditions or limited life expectancy, or who live in nursing homes.
There is not much existing research to guide health care practitioners as to what the appropriate levels of diabetes medications are for this group of older adults. There is also little information about the effects for these individuals of taking fewer or lower dose of diabetes medications.
Experts suspect that lessening diabetes treatment in these older adults has the potential to prevent unnecessary hospitalizations due to lowering the risk for harmful drug events and increasing the patients' comfort.
In order to investigate the issue, a team of researchers conducted a study—one of the first national studies to examine potential overtreatment and deintensification of diabetes management in nursing home residents with limited life expectancy or dementia. The researchers chose nursing home residents to study because admission to a nursing home could give healthcare practitioners a chance to learn more about patient goals and preferences and to review and adjust medications accordingly. The researchers published their results in the Journal of the American Geriatrics Society. Continue reading →