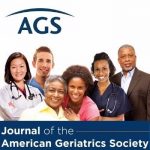 Journal of the American Geriatrics Society Research Summary
We tend to think of the flu as an illness that people recover from within a relatively short time. Unfortunately, that's not always the case for older adults, who are more likely to experience difficulties getting around and living independently following a serious illness. Adding to the problem is the potential for additional health problems that can occur during a stay in the hospital. Hospitalized older adults potentially face delirium, an abrupt change in mental function which causes sudden confusion. They are also susceptible to hospital-acquired infections and can weaken if they lose their physical conditioning.
In fact, studies show that one-third of older adults will be discharged from the hospital with a new disability — and only 30 percent of them will regain their pre-admission ability levels for bathing, dressing, feeding themselves, and managing other activities of daily living, even one year after their discharge.
A decline in your ability to take care of yourself can mean a greater need for in-home support, admission to a long-term care facility, and even an increased risk of death.
That's why a team of researchers designed a study to learn more about functional decline (the ability to take care of yourself) and serious disability in adults, aged 65 years and older, who are admitted to hospital for influenza and other acute respiratory illnesses. Their study was published in the Journal of the American Geriatrics Society. Continue reading →