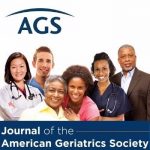 Journal of the American Geriatrics Society Research Summary
También disponible en español – Ver abajo.
As you grow older, you're more likely to develop health conditions that require taking multiple medications—some of which you may take for a long time. Many older people also take over-the-counter (or "OTC") medications, vitamins, or supplements as part of routine care. As a result, older adults have a higher risk of overmedication, also known as "polypharmacy"—the medical term for taking four or more medications at the same time. Polypharmacy can increase your chances of unwanted reactions (also called "adverse drug reactions") due to medications taken on their own or together.
To address this increasingly common problem, healthcare providers are focusing on how to reduce the number of medicines older adults are using through a practice called "deprescribing," which is when health professionals work with patients to decide to stop the use of one or more medications for which the benefits no longer outweigh the potential harms.
Getting both patients and health professionals on board with deprescribing can be key to its success, however. In order to learn more about physicians' attitudes and approaches to deprescribing medications for older adults, a team of researchers designed a survey. They published their investigation in the Journal of the American Geriatrics Society. Continue reading →