Named in honor of Dr. Thomas T. Yoshikawa and his wife, Catherine—who together served the AGS and the geriatrics community for more than two decades—the Yoshikawa Award for Outstanding Scientific Achievement for Clinical Investigation offers recognition and financial support to emerging eldercare scholars who represent the early promise of the Yoshikawas' own illustrious career.
The award, which includes a $2,000 honorarium, has been supported through 2032 thanks to generous support from AGS members and countless friends and colleagues of Dr. and Mrs. Yoshikawa.
Click here for more information on eligibility and application process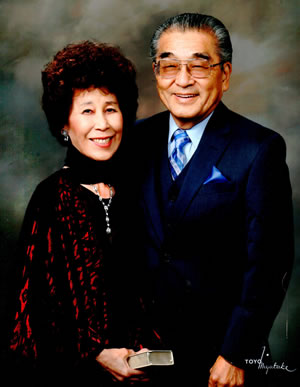 Dr. Yoshikawa was the editor-in-chief of the Journal of the American Geriatrics Society from 2000-2016, supported by Mrs. Yoshikawa as Editorial Assistant.  Under his leadership, JAGS is now included in more than 9,000 library collections and has been recognized as one of the oldest and most impactful publications on gerontology and geriatrics, according to ISI Journal Citation Reports®.  They have also been trusted colleagues, mentors, and friends to countless AGS members, researchers, healthcare professionals, and students who have benefitted from their commitment to service leadership.
Current Award Recipient
Heather Whitson, MD, MHS
The AGS and the AGS Health in Aging Foundation announced that Heather E. Whitson, MD, MHS, Associate Professor of Medicine and Ophthalmology at the Duke University School of Medicine and Deputy Director at Duke's Center for the Study of Aging and Human Development, would be honored with the 2018 Thomas and Catherine Yoshikawa Award for Outstanding Scientific Achievement in Clinical Investigation. A past program chair for the AGS annual conference, Dr. Whitson's Yoshikawa plenary presentation at #AGS18 focuses on individualizing health and promoting resilience in medically complex older adults.
"Dr. Whitson is not only recognized nationally as a leading geriatrics researcher but also as a creative and compassionate clinician," notes Ellen Flaherty, PhD, APRN, AGSF, AGS Board Chair. "That blend of expertise at the lab bench and in the clinic and classroom reflects everything we have come to expect from AGS members."
Dr. Whitson's interest in improving care delivery systems to better serve older adults with complex health needs has contributed to the leading role Duke's Center for the Study of Aging and Human Development has played in efforts to promote resilience to common "late-life stressors," such as surgery and sensory loss. Among several noteworthy highlights from a clinical and academic career that already spans more than a decade, Dr. Whitson developed a novel rehabilitation model for people living with both vision impairment and cognitive impairment, and she is part of an interdisciplinary team seeking to improve health outcomes for frail older adults immediately before, during, and after surgery.
More broadly, Dr. Whitson has focused her research career on improving care and health outcomes for older individuals living with multiple chronic conditions. Her unique interest in links between eye health and brain function, for example, are tracing important associations between Alzheimer's disease and changes in the eye, which could advance early detection for certain types of dementia.
An AGS member since 2005, Dr. Whitson received her medical degree from Cornell University in 2000 and began her work at Duke as a medical resident shortly thereafter. In addition to chairing the 2017 AGS Annual Scientific Meeting Program Committee and co-chairing a series of "bedside-to-bench" AGS research conferences sponsored by the National Institute on Aging (NIA), Dr. Whitson has authored or co-authored more than 60 research publications, many on the breadth of her own work supported by the NIA and other influential funders..
Announced at the 2016 AGS Annual Scientific Meeting and supported for 16 years thanks to generous contributions to the AGS Health in Aging Foundation, the Yoshikawa Award recognizes the research accomplishments of mid-career clinician-investigators directly involved in the care of older adults. It is one of several honors conferred by the AGS at its Annual Scientific Meeting.
Past Award Recipients
2017  Sei Lee, MD, MAS
2016   Mara Schonberg, MD, MPH
2015   Rebecca Sudore, MD
2014   XinQi Dong, MD, MPH
2013   Cynthia J. Brown, MD, MSPH
2012   Malaz A. Boustani, MM, MPH
2011   Catherine A. Sarkisian, MD, MSPH2010   
2010   Cynthia M. Boyd, MD, MPH
2009   Louise C. Walter, MD
2008   R. Sean Morrison, MD
2007   Eric A. Coleman, MD, MPH
2006   David J. Cassaret, MD, MS
2005   Joe Verghese, MBBS, MS
2004   Terri R. Fried, MD
2003   Edward Marcantonio, MD, Boston, MA
2002   James T. Pacala, MD, Minneapolis, MN
2001   Thomas M. Gill, MD, New Haven, CT
2001   Greg A. Sachs, MD, Chicago, IL
2000   Elizabeth Capezuti, PhD, RN
1999   Mark A. Supiano, MD
1998   Sharon K. Inouye, MD 
1992   Mary Tinetti, MD
1991   Larry Rubenstein, MD, MPH
Thank you to the Yoshikawa Award Supporters
Our sincere thanks to those who made this award possible.
Cathy Alessi
William Applegate
Linda Hiddemen Barondess
Dan Berlowitz
Shalender Bhasin
Ellen Binder
Patricia Blanchette
Soo Borson
Cynthia Boyd
Suzanne Bradley
Cynthia Brown
Kenneth Brummel-Smith
John Burton
Christopher Carpenter
Steven Castle
Joshua Chodosh
Elizabeth Cobbs
Leo Cooney
Kenneth Covinsky
Heather D'Adamo
Vinod Dhawan
Catherine DuBeau

Veronica Engle
Lois Evans
Thomas Finucane
Terry Fulmer
David Ganz
Thomas Gill
Carol Goodwin
Shelly Gray
Kevin High
Judith Howe
Sharon Inouye
Richard Jones
Robert Kane
Carol Kauffman
Ann Kolanowski
Seth Landefeld
Cathy Lee
Sean Leng
Lewis Lipsitz
Nancy Lundebjerg
Michael Malone
Nicolas Musi

Mary Beth O'Connell
Joseph Ouslander
Robert Palmer
Mary Happel Palmer
William Reichel
David Reuben
Michael Rich
Debra Saliba
Kenneth Schmader
Todd Semla
Manish Shah
Kenneth Shay
Linda Sohn
Gail Sullivan
Mark Supiano
Bruce Troen
Gwen Uman
Joseph Verghese
Wiley
Gwen Yeo
Thomas and Catherine Yoshikawa